Contoh Job Interview Transcript
Wawancara (interview) adalah percakapan antara kedua pihak atau lebih, satu pihak sebagai pewawancara dan pihak lainnya sebagai yang diwawancara. Pertanyaan-pertanyaan yang dilontarkan dari pihak pewawancara harus dijawab sebaik-baiknya oleh orang yang diwawancarai.
Sementara itu, job interview adalah wawancara yang dimaksudkan untuk mencari pegawai baru. Wawancara sangat diperlukan untuk mengetahui secara lengkap pribadi dan potensi calon karyawan. Resume hanyalah ikhtisar singkat yang tidak bisa menilai secara keseluruhan karyawan baru.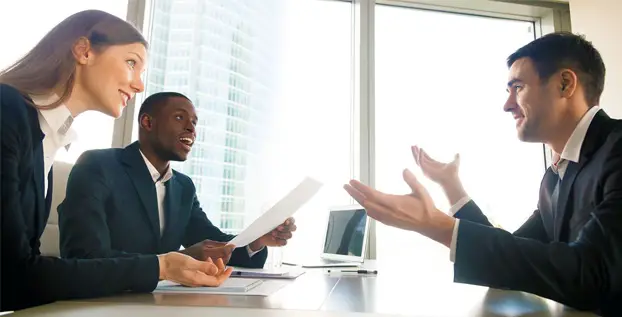 Perlu diketahui, sebagian besar manajer perekrutan menghabiskan waktu kurang dari 10 detik untuk melihat resume ribuan pelamar yang masuk setiap harinya. Resume tidak bisa menilai etos kerja, kepribadian, motivasi pribadi, dll. Maka dari itu, apabila seorang manajer perekrutan tertarik dengan resume kamu, dia akan menghubungimu untuk memastikan bahwa pilihan memperkerjakan kamu adalah tepat.
Simaklah contoh job interview berikut ini untuk mengetahui apa saja yang biasanya ditanyakan saat wawancara kerja dan bagaimana sebaiknya menjawab pertanyaan-pertanyaan tersebut.
---
Hiring Manager (HM)     : Good morning. Hello, Paul, thanks for coming today to this job interview. I'm Samuel Winston. Nice to meet you.
Candidate (C)           : Hello, I'm Paul Lewis. Nice to meet you, too!
HM                     : So, first question. Where did you get the information that our company is hiring?
C                       : I get the information that this company is hiring through official announcement on LinkedIn.
HM                     : Have you read the information about this job? What do you think about it?
C                       : Yes, I have. I am interested in the field and have supportive backgrounds to be able to do the work as described. It is one of the reasons I am applying for this job.
HM                     : Good. What did you study?
C                       : I studied business administration at Mount Woodrow College.
HM                     : What about your present job? Can you tell me about it?
C                       : Well, right now I work as New Business Development Staff at Broomfield, Colorado. I decide when to expand the market, the time to release new products, and the time to hire new employees. I also manage post-deal management.
HM                     : How long have you been in the business development department?
C                       : I have worked there for three years.
HM                     : Can you tell me what do you do in your free time, Paul?
C                       : I go to the theatre to watch some films. I also like to collect and build LEGOs.
HM                     : Last question; why do you want this job?
C                       : I really want to expand my experience by working in advertising. This is a great opportunity for my career. I believe I have the right skills for the job.
HM                     : Solid response. Thank you, Paul. It's been good talking to you. Thanks for coming to the interview. We will contact you soon if you meet the criteria of the employee we are looking for.
C                       : Thank you. I'm looking forward to meeting you again, Mr. Winston.
---
Setelah melihat contoh job interview di atas, apakah kamu ada pertanyaan? Layangkan baik pertanyaan maupun tanggapan kamu di kolom komentar.
Kamu mungkin juga suka :
. Terakhir diupdate: